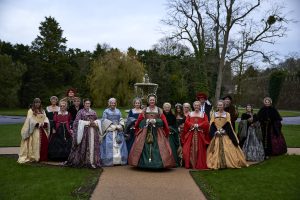 The Tudor Royalty Experience Day
The day's itinerary includes:
- Tudor Clothes/Gown & Jewels for the Day**
- Professional Photographer
- All Photographs are included and will be sent digitally
- Three course a la carte dinner
- Event is for up to three couples
- Full English Breakfast
Rates are from £885 per night based upon two adults sharing a Suite
Itinerary of the day:
We will greet you with hot drinks and an introduction from your maids for the day, headed by Lady Samantha.
This is followed by the most exciting activity of being dressed in beautiful replica Tudor Clothing or Gown and jewels for the day, including an historical dressing presentation.
Enjoy a grand tour of the castle grounds in your Tudor finery, with the opportunity for photographs to be taken in and around the castle. Lady Samantha will also give you a history talk about the castle and it's illustrious heritage during your tour.
In the afternoon there will be a further opportunity to explore the castle and gardens and have more photographs taken.
Drinks and canapés will be served before dinner from our a la carte menu.
Alas, this will then conclude your day as Tudor Royalty and we will de-gown and return to the 21st Century. All the professional photographs will be sent to you by email during the following week.
Terms and Conditions
This offer is subject to availability until further notice, supplements for larger room categories apply. A 30% non-refundable deposit is required at the time of booking.