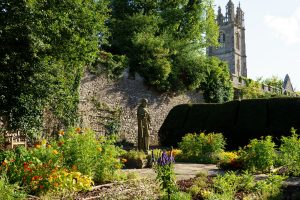 To celebrate the completion of our two-year, multi-million pound refurbishment, we are delighted to be offering guests the chance to enjoy a variety of activities to conjure up the atmosphere of Tudor England.
Become a Tudor Queen for the day
Step back in time and enjoy a fun and exciting day to dress like, look like, to dine like and be entertained as an English Tudor Lady for a day at Thornbury Castle.  The day begins at 10am and finishes at approximately 4pm and includes lunch, afternoon tea, lady-in-waiting service for the day, a spot of falconry, complimentary mead, chocolates and truffles and refreshments.  Once costumed, your Tudor Queen look will be captured by a professional photographer, with digital pictures for you to take home.
Price varies by number of people participating and, for groups of a minimum of four people, the Castle can offer a bespoke and private experience (subject to availability).
Longbow Archery
Archery was Tudor England's national sport as well as an important piece of its national defence. In 1515, Henry VIII commanded that every householder keep bows, and that every adult and adolescent male learn to use them (a subsequent decree promised a pardon to any man who accidentally shot a passer-by while fulfilling his obligations under the first decree!).
During a stay at Thornbury Castle, guests have a chance to try it for themselves.  After mastering the fundamentals of becoming an archer, with instruction on shooting a longbow, guests will be given the chance
to participate in Tudor pastimes to see if they are able to match up to the archers of the period, while absorbing the history of Thornbury Castle and Tudor England's famous longbows.
Axe Throwing
Accompanied by qualified marshals, guests have the chance to throw hatchets and angels at a target in a safe environment in the picturesque grounds of the Castle. Need more of a challenge? Marshals will challenge guests to a 'Throw-Off ' – who can score the most points?
Note: These experiences are offered by Battle Archery Bristol, and available for hotel guests on Saturdays and Sundays, subject to availability and weather dependent. Maximum of six persons per session. The experiences are subject to availability and additional costs will apply based on party size and activity desired. Each experience must be booked at least 48-hours in advance. Should guests cancel their reservation less than 24-hours prior to their experience, the full amount will still be payable.
Falconry
The sport of hunting with falcons and hawks is believed to date back at least 2,000 years and to have originated in the Far East. As world trade grew, so falconry spread to Europe, where it quickly became a popular pastime of royals and aristocrats, and for many other people a way of putting fresh meat onto the table. Today it is hugely popular with people of all ages rediscovering the excitement and skills of working with birds of prey.
Falconry displays are an excellent addition to a stay at Thornbury Castle.   Demonstrations with birds of prey are accompanied with expert commentary from Michael Davie, one of the leading falconers in England.
Price: £350.00 for a one-hour interactive display, guests have the opportunity to hold a bird and take photographs (pre booking is essential and displays can be booked from 9am to 2pm daily, subject to availability).
Thornbury Castle History Tours
Built in the 1500s, Thornbury Castle has housed kings, queens and dukes over the centuries, and we are so pleased to offer the opportunity of a guided historical tour with a local historian of both the inside and
outside of the Castle. The tour starts with our local historian weaving a detailed history of the castle and
the people who have owned or lived here. Guests will then be accompanied around the Castle interior where the historian will highlight different features which
can be seen, but not necessarily noticed. The tour then concludes outside in the grounds and gardens, where the fascinating architecture is discussed.
Price: £15.00 per person.  Pre-booking is essential. Tours are offered by the team at Thornbury & District Museum and available for hotel guests, subject to availability of the historians.
Garden Tours
Located within 15 acres of grounds, Thornbury Castle retains many original features, including arrow slit windows and original planting from the Tudor period which can be admired by taking a guided walk around the Castle.
Garden tours take place July through to November and can be pre-booked at the hotel reception.
And for something a little further afield:
Clay Pigeon Shooting
Set in 55 acres of natural woodland, Lady's Wood Shooting School offers comprehensive clay pigeon shooting facilities. Shooting tuition is provided for those who have never tried it before right through to those who are more experienced.  Located just 30 minutes from the Castle, the Shooting School offers a variety of targets, with over 30 stands, six onsite towers (including the 120ft high tower), a wide variety of sporting stands, grouse butt and the infamous Lady's Wood Extreme Tower.
Bookings must be made in advance.  Price for a one-hour lesson from £90 per person, plus cartridges.  For two people, cost is £65.00 per person plus cartridges.
For more information or to book any of these experiences please call 01454 281182 or e-mail [email protected]